Upcoming Events:
Ojai Earth Day Dances of Universal Peace- Free and Open to All!
Earth Day Celebration in Ojai, Saturday April 21, 2018, 12:30 PM
Libbey Park, Ojai. Next to children's park between playground and Post Office
Amira Webster Leads dances, Lucy accompanies on guitar.
All welcome! <3 <3 <3
Ongoing Events:
Solo Piano Featured in LA Sound Journeys:
Select Tuesdays in January, February, March and April
Special Event Tuesday, April 9, Featured on piano along  with Multi-Genre Vocalist Devyn Rush! <3 <3 <3 See DevynRush.com! 
Location: Peace Awareness Labyrinth and Gardens in Downtown LA: Introduction to Meditation and Sound: A Deeper Experience with Paul Kaye, President of PAL&G 3500 West Adams Boulevard, LA. 7:30PM
January 9: Seven of Lucy's improvised piano solos are included in this Sound Odyssey in which Paul Kaye guides participants in a meditative inner orchestral experience using chimes, crystal bowls, a monochord, gongs and a variety of Sound healing instruments from around the world.
Dances of Universal Peace, Ojai

2018 schedule: Earth Day, April 21, 2018 then Monthly starting in September 
Lucy leads the music for this gentle, community supportive dance evening featuring several dances from various faith traditions around the world.  Learn new songs and easy simple-to-learn dances led by Certified Dance Leader Amira Susan Webster.  Fun, friendly, and no dance or music experience required!
At Sacred Space Studio in Ojai. There will be a meditative intermission. $10 per person.
All Welcome!
LPD Other Recent Events:
Muspoetography Show in Ojai!   (Sold Out!) Sunday, November 19, 2017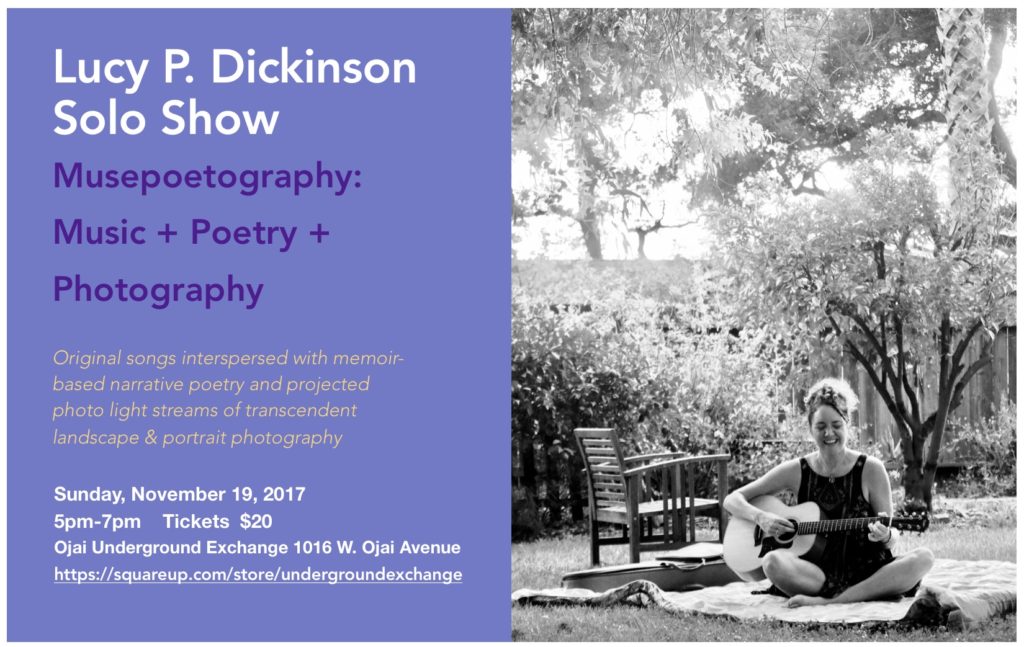 Lucy Dickinson Solo Show featuring Music, Poetry and Photography showcasing creative output from recent travels in US and Canada!
Sunday, November 19, 5-7PM Ojai Underground Exchange
LPD Performer Bio:
Multi-genre creative artist Lucy P. Dickinson shares her unusual gift of seeing and sharing the hidden beauty in life that others often miss—through uplifting original songs in the folk/singer-songwriter genre, healing and humorous narrative poems, and luminous landscape and portrait photography presented via illuminated photo projections.  The common voice in her work is an energy of healing light and sound that connects listeners and viewers to a deeper level of multi-dimensional awareness.  Themes of mystical love, nature, spiritual awakening, healing from grief and trauma, humor, and seeing what is commonly unseen travel across her lyrics, poetry and visual imagery.  Nature is a central theme in her work–both the natural beauty of the North American West Coast  which she photographed extensively, as well as the essential nature of human beings, caught in moments full of joy, vulnerability, creativity and authentic expression.  Her singing voice resonates with the energy of the sound current* and expresses a sonorous, rich, comforting, clear and healing tone.  Lucy's performances evoke a field of creative resonance that empowers audience participant/co-creators to connect with their own creativity, healing awareness and authentic empowerment. 
*Sound current: Described in many spiritual traditions as a mystical transformational field of energy that emanates from all aspects of creation
Special guest lumen artist Tim Fitzgerald bio:
Tim creates immersive visual experiences by exploring light, shadow, color and motion through interpretive live video editing.  Tim has performed his live work in the American Southwest and California, particularly in the Ojai Valley.  You can follow Tim's photography on Instagram @decelorator.
Gentle Songs & Improvisational Piano for Relaxation and Healing
Weekly throughout 2017: Music at the Gables in Ojai (Montgomery and Grand Avenue)
Lucy sings peaceful original songs (and some requests) followed by improvisational piano music just right to help you relax and slow down at this free community event.
Visit with loved ones at the Gables while you take some time to rest.
Free, All welcome.
Upcoming events date TBA in 2018:
Creativity Coffeehouse
Enjoy an evening hosted by LPD featuring Ojai artists of varying genres each presenting their art for 10 minutes followed by a 10 minute Q and A with the audience.
Featured theme: "Creativity and Peace".
Poetry Reading: Hidden Treasure
LPD's original memoir-inspired poetry covering subjects including relationships, healing, trauma, recovery, spirituality, empowerment, consciousness, joy, nature and the human condition.
Solo Singer/Songwriter Show with Special Guest Artists
All original songs for voice, piano and guitar ranging in genre from ballads to humorous to protest songs to spiritual resonance experiences.
And… MORE MUSEPOETOGRAPHY SHOWS!